---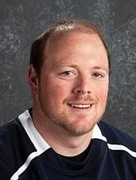 Coach Williams
---
Warriors' Track gets started at St. John's Invitational
by Tyler Williams
April 08, 2019
The Southern Cloud high school track team started their season in Beloit on April 3, the meet hosted by league school St. John's. The weather was perfect for a track meet and the Warriors tried to make the most of the day. The three Warriors bringing medals home were senior Carson Bellows (second in High Jump), senior Jacob Comstock (third in Discus), and sophomore Morgan Coleman (third in the 110m Hurdles).
Placing at St. John's:
GIRLS:
Jocelyn Buller: 5th in the 1600 Meter Run, 7:03.6
Taylor Cox: 6th in the Long Jump, 13' 6.25"
BOYS:
Carson Bellows: 2nd in High Jump, 5' 10"; 4th in Triple Jump, 36' 11"; 5th in Long Jump, 17' 11.25"; 6th in Javelin, 115' 8.5"
Jacob Comstock: 3rd in Discus, 104' 3"; 4th in Shot Put, 38'
Morgan Coleman: 3rd in the 110 Meter Hurdles, 18.46
Timothy Wennihan: 4th in High Jump, 5' 2"
Blake Gumm: 5th in the 200 Meter Dash, 25.05
Dusty Mason: 6th in the 110 Meter Hurdles, 20.63
At the Concordia Invitational on April 5, the Warriors were easily the smallest school in attendance, facing schools that were of the 3A-4A level. The strong competition proved to be too much for many of the young Warriors, as placing was close to scarce on the day.
Placing at Concordia:
GIRLS:
Jocelyn Buller: 6th in the 3200 Meter Run, 14:45.78
BOYS:
Carson Bellows: 5th in High Jump, 5' 8"; 6th in Triple Jump, 39' 4.75"
Blake Gumm: 3rd in the 200 Meter Dash, 24.5; 5th in the 100 Meter Dash, 12.4