---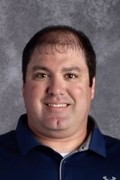 Coach Flinn
---
Warriors Miss Opportunity in Clyde
by Cody Flinn
January 31, 2019
The men's basketball team went to Clyde to take on a good Clifton-Clyde basketball team. The Warriors battled extremely hard but came up short by the score of 48-40.
Being down as many as 10 points in the second half the Warriors battled back to take a 1 point lead in the fourth quarter. The big run to get the lead in the fourth quarter took a lot of energy by the Warriors causing them to run out of legs and letting the lead slip away with mental errors and not executing when rebounding the ball.
The Warriors were led by Ryan Paillet with 12, Carson 9, Kaury 7, Blake 6 and Avery 6.
This game was a good measuring stick game by stepping out of league play and facing a team from the tough TVL. Now the team knows that they can play with the best teams in the state and look forward to a good end of year run that will carry them into Regional play.