---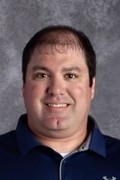 Coach Flinn
---
Warriors Outlast Panthers
by Cody Flinn
January 09, 2019
The Warriors continued their cold shooting for the first three quarters of their game vs. the Pike Valley Panthers. The fourth quarter the Warriors found their offensive rhythm and started putting the ball in the basket scoring 28 of their 50 points in the final quarter. The game was slow paced by both teams knowing that every possession was important. The Warriors lead 18-16 at half and ended up winning over the Panthers 50-39.
The Warriors had balanced scoring and team play from all of its members. Kaury led the scoring with 18 followed by Blake 11, Ryan 8, Avery 5, Carson 4 and Jackson and Nevyn 2 points each. Blake and Kaury both had double digit rebounds in the game which helped the Warriors limiting the Panthers to just one shot.
The win was a critical for league tournament seeding's and to ensure momentum going into the game against the Tigers from Natoma on Friday, January 11th.