---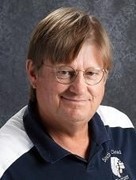 Coach Hatfield
---
Warriors Fall to Eagles
by Rick Hatfield
November 05, 2018
The Southern Cloud Warriors suffered through tough shooting luck in the second & third quarters of their game with the Clifton/Clyde Eagles on Monday night in both teams 1st game of the season. The Eagles were only up 4 starting the 2nd quarter but outscored the Warriors 36 – 8 the rest of the way for an impressive 47 – 15 victory. Trent Lang scored 12 points and Payton Fehay scored 8 to lead a balanced Eagle attack.
The Wariors were led by Levi Cool with 7 points followed by Bryson Schmidt with 5 points and 9 rebounds on the night. Dante Peterson scored 1 point and Ethan Kennedy scored 2 points to round out the Warrior scoring.
"I really was happy the way we came out, we just quit hitting shots after the 1st quarter and they just moved away from us. We aren't in good basketball shape yet and we must run our offense better, but I thought we played hard, so I wasn't totally disappointed. We will get better!" Quoted Warrior Coach Rick Hatfield.
In the B-Game the Warriors lost 20 – 13, but again showed some promise. Jack Skocny let the Eagles with 12 points. The Warriors were led by Gus Rice with 6 points, Colton Walters had 4 points, and Levi Cool had 3 points to round out the Warrior scoring.
The Warriors are at Wakefield on Thursday night. Game time is 5:15.