---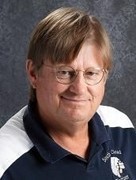 Coach Hatfield
---
Warriors Have Fast Start But Can't Finish
by Rick Hatfield
January 11, 2019
The Southern Cloud Warriors got off to a very good start on Thursday night against the Lakeside Knights, but could not keep it going and lost to the Knights 39 – 27 before a good crowd at Glasco. The Warriors raced to a 12 – 4 lead to begin the game but eventually allowed the Knights into the game in the last 2 minutes of the 1st Quarter. It was the 2nd and 3rd quarter that really hurt the Warriors as they only scored 2 points in each of those quarters while the Knights rolled up 16 and 9 points in those quarters, the Warriors did score 10 points to the Knights 5 in the last quarter, but it was too little too late and the Knights took home the victory.
The Knights were led by Jorden Schoen with 10 points and 9 from their fine center Eli Hahn. The Warriors got 8 each from Levi Cool and Gus Rice, Ethan Kennedy scored 6 points in what was one of his best efforts of the year, and Bryson Schmidt scored 5 points to round out the Warrior attack. Bryson Schmidt also led the Warriors in rebounds with 9.
In the B-Game the Warriors lost 10 – 8. They made a valiant comeback after Lakeside went up 8 – 0, but a last second possession bore no fruit and the Knights held on for the victory. Chris La Rocque of Lakeside scored 6 points to lead all scorers. Donovan Burch scored 4 points to lead SC, Dashawn Peterson scored 2points and Ethan Kennedy added 2 points to the Warrior cause.
The Warriors next play Rock Hills at Glasco on January 17th. Games start at 4:30.