---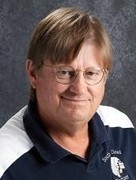 Coach Hatfield
---
Warriors Lose Tough One to Linn
by Rick Hatfield
November 24, 2018
The Southern Cloud Warriors lost a tough battle to the Linn Bulldogs on Tuesday night. The Warriors looked a little leg weary, but still fought the Bulldogs all night long. In the last quarter the shots would not fall for the Warriors and they were outscored 10 – 2 in the stanza. They had trailed by only one going into the last quarter.
Anthony Ayala scored 10 points to lead Linn and Gavin Turk had 9 points for the visitors. For Southern Cloud Levi Cool led all scorers with 12 points, Gus Rice scored 4 points and Dante Peterson scored 6 points to round out the Warrior scoring. Bryson Schmidt did not score but pulled down 15 boards to lead the Warriors in that category.
"I felt like we should have come away with a victory tonight. We led in almost every category except points; we just couldn't get the ball to go in that final period. I think we got a little frustrated and that hurts your shooting. Really we got some pretty good looks and they just wouldn't fall. That's basketball I guess. We did a lot of running on Monday in practice. Maybe we should have let up a little on that, if so, that was my fault, but I feel like we still need to be in better basketball shape." Said Warrior Coach Rick Hatfield. "I'm still proud of the guys, they played hard and they were disappointed they couldn't get the win. We will keep improving as time goes on, we'll get some victories before it is all said and done." Hatfield added.
The Warriors B - team did get their 1st win of the season in a low scoring affair, 7 – 3. The Warriors had Colton Walters, Dante Peterson and Bryson Schmidt with 2 points each and Gus Rice with 1 point to round out the Warrior Scoring. Aiden Spiehs had 2 points to lead the Bulldogs.
The Warriors will play their 1st road game of the year at Lakeside (Cawker City) on Monday.