---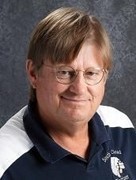 Coach Hatfield
---
Thunder Ridge Too Much For Warriors
by Rick Hatfield
January 29, 2019
The Warriors knew it was going to be a tough deal, but they went into the contest with thoughts of playing well and then seeing what could happen. After 1 quarter it looked good, the Warriors only trailed 8 – 4 and the Longhorns were in foul trouble, but that is when it all turned bad. Thunder Ridge went on a 27 – 1 run to finish the half and never looked back as they took the contest 63 – 14 in the 1st round of the PTL Tournament.
"I was really proud of our guys after that 1st quarter, but then their athletic ability came to the front and we just couldn't get them slowed down. They are one of the best junior high teams I've ever coached against and I've been coaching a long time, "Said Warrior Coach Rick Hatfield. "It would take a major upset for them not to win the PTL Tournament." Hatfield added.
The Longhorns were led by their gifted forward Dylan Bice with 34 points. Kaleb Wagenblast scored 8 despite foul trouble, and Dalton Bice scored 7 to aid the Thunder Ridge cause.
The Warriors were led by Bryson Schmidt with 6 points and 5 boards in one of his finest efforts. Gus Rice scored 4 points, Levi Cool scored 3 points, and Dante Peterson scored 1 to round out the Warrior scoring.
The Warriors end the season at 0 – 13. Thunder Ridge moves on to the semi-finals at 13 – 0.