---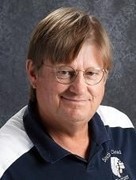 Coach Hatfield
---
Warriors Fall Late Again
by Rick Hatfield
January 18, 2019
The Southern Cloud Warriors have had chances this year. Late game problems have hurt them several times, Thursday night was no exception. The Warriors were leading 20 – 17 in the 4th quarter against "old rival" Rock Hills, and it happened again. This time it was fouls. The Warriors fouled out 3 of its starters (Bryson Schmidt, Colton Walters, and Gus Rice and the Grizzlies went on a 12 – 2 run to finish the game. The final score was Rock Hills 29 – SC 22.
Rock Hills was led by their fine forward Grant Meyers, who played a great game, scoring 15 points. The Warriors were led by Dante Peterson with 10 points in maybe his finest game of the season. Peterson also pulled down 5 boards and had 2 steals. Colton Walters scored 1 point, Gus Rice, playing point guard for Levi Cool, who was out with a sore throat and the flu, scored 9 points. Bryson Schmidt and Ethan Kennedy were saddled with foul trouble and held to 2 points each. Bryson was still able to pull down a team high 7 rebounds and Ethan Kennedy was right behind with 6 boards for the Warrior cause.
In the B-Game the Warriors lost to the Grizzlies in overtime 16 – 13.
Nathaniel Meyers led the Grizzlies with 8 points. The Warriors were led by Donovan Burch with 8 points, Gus Rice with 3 points, and Kye Chase scored 2 points to round out the Warrior scoring.
The Warriors play their last regular season game against Thunder Ridge at Agra on Jan. 24. Those games will start an hour earlier, 3:00 PM.
The Warriors fall to 0 – 11 on the season, the B - Warriors fall to 5 – 6 on the season.