---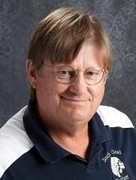 Coach Hatfield
---
Warriors Fight Hard at St. John's/Tipton
by Rick Hatfield
December 14, 2018
The Southern Cloud Warriors did all they could to give the Warrior faithful an early Christmas present on Thursday night, before falling to the St. John's/Tipton Blujays 35 – 23. Trailing by 14 in the 2nd half the Warriors put on a furious press and cut the Bluejay lead to 5 points with 1:32 left in the quarter, but then turned it over 6 out of the next 7 possessions and fell back, eventually losing by 12 points.
Luke Bates scored 12 points for the Jays to lead all scorers and Josh Towner added 11 points to the Jay cause. The Warriors were led by Byrson Schmidt with 8 points, Dante Peterson scored 6 points, Levi Cool added 5 points, and Gus Rice finished with 4 points. The Warriors again struggled with turnovers. They had 29 on the night including that stretch in the 3rd quarter.
"Except for the turnovers, I was really happy with our effort. We played hard and our press worked well, but you just can't give up the ball that much and expect to win. I do give our defense credit; they still allowed only 35 points, even though we turned it over that much." Said Warrior Coach Rick Hatfield.
The B – Warriors lost their game as well, falling to the Jays 12 – 8 after leading most of the game. Luke German led the Jays with 4 points, Austin Vowinckel, William Cockroft, Nick Niewold, and Jacob Winkler scored 2 points each. The Warriors got 4 points each from Gus Rice and Colton Walters.
The Warriors next play at Wakefield on January 7th. This is a makeup game that was canceled due to bad weather earlier in the year.