---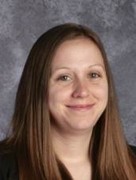 Miss Boden
---
Math News
by Sara Boden
October 01, 2019
The 2019-2020 school year is in full swing and the Glasco math department has started strong. Each class has already completed 1 or 2 chapters.
The 7th grade math class has been reviewing operations with decimal numbers and is solving one-step equations. The 8th graders are doing operations with numbers written in scientific notation. Algbera I just finished learning how to solve multi-step equations and is starting on proportions and indirect measurement. Geometry is finishing up their chapter on reasoning that will lead them into writing proofs. They will start with the basic proofs dealing with angles and segments and will eventually get to more complex proofs dealing with similar and congruent shapes. Algebra II started graphing and transforming graphs.
This is the year where the students start using graphing calculators on a regular basis and so far it has been a blast teaching them different ways to use their calculators.