---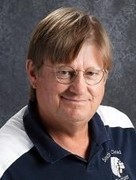 Mr. Hatfield
---
Junior High Social Studies and Sports Info
by Rick Hatfield
February 14, 2018
The Junior High Warriors ended their basketball seasons in late January. The boys had a tough year, winning only one game. The girls placed 4th in the PTL tournament and played 3 exciting games. Now it is a little rest before the Warriors begin to get ready for track season, which will begin practice in early March. Mr. Hatfield will be again leading the Warrior High School Golf Team into competition. Their 1st meet is April 9th.
The 8th grade has finished Kansas History and now is studying Civics. They are also working in their journals on the Presidents. They are about to get to John F. Kennedy, having just studied Dwight Eisenhower. There are four 8th graders this year: Nick Millikan, Chelesea Stout, Macie Hoffman, and Matt Paillet.
The 7th grade is to Central Europe in Geography. They are moving through the Geography book pretty fast! The are also studying all of the states in their journals. The 7th grade this year is Lucas Jamison and Alisha Waite.
Spring is just around the corner and the junior high students are ready to shed the winter coats and get outside for a little fresh air. That will be coming soon!