---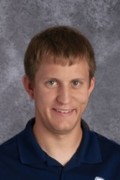 Coach Perkins
---
Cross Country Runs at Bennington
by Ryan Perkins
September 23, 2019
The running Warriors had another hot day at the Bennington Cross Country meet. Going from last week where we got a taste of what it's like running in 82 degrees and partly cloudy to 93 and sunny.
We started the day off with Varsity girls. Peyton Walters ran a good race. She also ran her pace and after the first mile she started picking girls off and passing one at a time.
In the boys Varsity race, Nevyn Gold and Levi Cool got their first taste of running in the heat for this year. They both got off to great starts, but the more the race went on the more the heat got to both of them. Neither one of them met their goal for the meet, which allows us to try even harder next week. Lucas Jamison was the story of the day. He ran a great race and improved his time by over a minute. He ended up way ahead of the same guys he finished around at Abilene.
This week we will be running at the Republic County Cross Country Meet.