---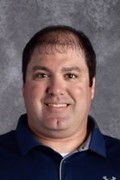 Coach Flinn
---
Warriors Fight Mustangs
by Cody Flinn
January 30, 2020
The Warriors hosted the one loss Sylvan-Lucas Mustangs on Tuesday night falling to a score of 54-35. The Warriors had the lead after the first quarter and were only down 5 at half, but the 3rd quarter blues hit the Warriors hard again being outscored 17-2 in the third quarter to find themselves battling up-hill the rest of the night.
The team was lead in scoring by Nevyn with 13, Jackson 10, Gabe and Levi with 4 and Tony and Morgan with 2. The physical Mustangs controlled the boards and made it hard to score in the second half.
The next opponent for the Warriors is the Thunder Ridge Longhorns on Homecoming.