---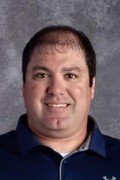 Coach Flinn
---
Warriors Shoot Down the Bombers
by Cody Flinn
December 12, 2018
The Warrior basketball team traveled to Wakefield on Tuesday to take on the Bombers. The JV pitched a shut-out winning the game 10-0. The Varsity finished the sweep for the night with a 40-22 win over the bombers. The team came out and got off to a quick start in the first quarter leading 18-2 after the first quarter. The Warriors fell asleep in the 2nd quarter and had unforced turnovers to let the Bombers back in the game. After half time adjustments and refocus the Warriors held the Bombers to just 2 points in the third quarter as well.
Shooting the ball well for the Warriors was Blake Gumm with 13 point and 3 for 3 from three point land. Kaury Stout also had a solid game with 11 points and 8 rebounds. The rest of the team hustled and had a lot of assists and star hustle points in the victory. The Warriors finally had single digit turnovers for the first time all year which is something they have been working on.
The win was great and now it is time to get refocused for their next game against their rivals from St.John's/Tipton in a week.