---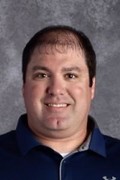 Coach Flinn
---
Warriors Come Back from Break ICE COLD
by Cody Flinn
January 07, 2019
The Warriors came back after Christmas break with a long road trip to Wilson to take on the Dragons. The Warriors never led in the game and could never find a way to put the ball in the basket losing the game 43-32.
The Warriors were led in scoring by Kaury with 13 and Blake 6. Carson Bellows had a good game with 6 points, 10 rebounds and 3 steals.
The Warriors need to find a way to get back on the winning track on Tuesday vs. the Pike Valley Panthers.