---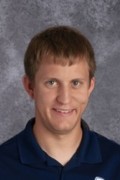 Coach Perkins
---
LADY WARRIORS TAKE ON THE EXPERIENCED LADY BULLDOGS
by Ryan Perkins
December 10, 2019
Southern Cloud Warriors started the season with 11 girls, 2 seniors (Te'a Kennedy and Makenna Comstock), 4 Juniors (Rael Beals, Hana Cool, Athina Liby, and Shea McMillan) and 2 Sophomores (Mallory Bellows and Myah Jamison) and 3 Freshman (Braya Darnall, Alisha Waite, and Peyton Walters).
The Warriors return only 1 starter and 2 other letter winners from the 2018-2019 season.
The Lady Warriors started off on the wrong foot. The Lady Bulldogs jumped to an early lead. They outscored the Lady Warriors 13-7. The Lady Bulldogs continued to outscore the Warriors 9 to 3 in the second quarter, giving the Lady Bulldogs an 10-22 half time lead. The Lady Warriors came out of the locker room scoring 10 points in the third quarter giving the home team a 20-33 lead. In the final quarter the Lady Warriors scored 6 more points, but came up short losing 43-26.
Leading the way for the Lady Warriors was Makenna Comstock who had 6 points & 2 rebounds, Hana Cool with 5 points & 4 rebounds. Shae McMillan and Braya Darnall had 4 points, 2 rebounds. Rael Beals had 3 points and 4 rebounds The Warriors made 6 out of 12 free throws and shot only 28% from the field making 9 out of 32 shots. The Lady Warriors had quite a few turn overs for the night. The Lady warriors did a good job for being an inexperience young team.
The Lady Warriors Junior Varsity lost to the Lady Bulldogs 19-6. The JV only played 2 quarters due to the low numbers of girls on the team. The JV Warriors were led by Rael Beals and Mallory Bellows with 3 points each.