---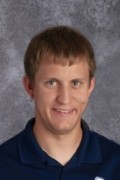 Coach Perkins
---
LADY WARRIORS TAKE ON BLUJAYS
by Ryan Perkins
January 02, 2020
On Friday night, December 20, the St. John's of Beloit/Tipton Blujays traveled to Lynch Gymnasium to take on the Southern Cloud Lady Warriors. The Lady Warriors and the Lady Blujays battled to a 4-4 tie after the first quarter. The Lady Blujays made a run with two minutes left in the second quarter to take a 19-8 half time lead. The Lady Warriors came out and played hard in the third quarter, with the Lady Blujays outscoring the Lady Warriors 13-6. Giving the Blujays a lead going in to the fourth quarter, 32-14. The final frame, the Lady Warriors played the Lady Blujays to a 10-10 tie. The Blujays came out on top 42-24.
Leading the way for the Lady Warriors was Shaelynn McMillan with 7 points. Scoring 4 points each was Athina Liby and Braya Darnall, followed by Rael Beals with 3 points. Te'a Kennedy and Makenna Comstock added 2 points each. Peyton Walters & Alisha Waite had 1 point each. Shae and Makenna had 2 assists each. Leading the Lady Warrior rebounding was Athina Liby and Te'a Kennedy.
Next up for the Southern Cloud Warriors at Lynch Gymnasium in Glasco will be Wilson Dragons on January 10, 2020.