---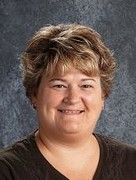 Coach Cool
---
Results of First Three Match Dates
by Amy Cool
September 17, 2019
At Sylvan
The Lady Warriors traveled to Sylvan to play their first volleyball match of the season. The first match for the varsity was against Sylvan Lucas. The girls won the first set 25-21, lost the 2nd set 12-25 and battled the 3rd set 27-29 for a loss. They played Thunder Ridge next and lost 8-25 and 8-25. The last match was against Wilson which we played 3 sets against and lost 25-23, 23-25, 22-25.
The JV girls played Sylvan and lost 18-21, 21-12 and 7-15 and Thunder Ridge 12-21 and 13-24 for a loss. It was a hot and humid day and the gym seemed to feel like a sauna but the girls fought hard and played well. Our next match will be Tuesday, Sept. 10 at St. Johns in Beloit.
At Beloit
The SC Lady Warriors traveled to Beloit to play a quad on Tues., Oct. 10 against Chase, Pike Valley and St. Johns/Tipton. The varsity girls showed some spark in their first match against Chase. They won 26-24 and 25-12. Pike Valley came on strong and the lady warriors could not catch up, so a loss was recorded 20-25 and 22-25. The varsity then traveled over to St. John's gym and played the Blujays. The girls fought hard but lost 17-25 and 8-25.
The Lady Warrior JV team played Pike Valley and lost 19-25 and 22-25. They then played St. Johns/Tipton and won 20-25, 25-23, and 15-6. Southern Cloud will host it's annual volleyball tournament on Saturday, Sept. 14 starting at 8:30 am.
SC Tournament
The SC Lady Warriors participated in the annual Southern Cloud Volleyball Tournament on Sat., Sept. 14. This year it was a round robin tournament. The varsity started the day playing at 8:30 am against Rock Hills. Coming out strong, the girls won 25-19 and 25-22. This win was a great way to start the day as the rest of the day didn't follow suit. The girls played Hanover losing 14-25 and 12-25. St. Johns/Tipton was their next opponent with scores of 14-25 and 15-25 counting as a loss. Linn showed up to play beating the Lady Warriors 10-25 and 21-25. The girls tried hard with Blue Valley but fell short with scores of 23-25 and 19-25. The last match of the day was against Thunder Ridge. The Warriors lost 12-25 and 13- 25.
Standings for the day were Thunder Ridge 5 wins/ 1 loss, Hanover 4 wins/2losses, St.John/Tipton 4 wins/2 loses, Linn 4 wins/2 losses, Blue Valley 3 wins/3losses, Southern Cloud 1 win/5 losses, and Rock Hills no wins/ 6 losses.