---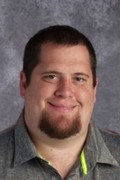 Coach King
---
Junior High Lady Warriors drop first two
by Ryon King
November 15, 2019
The JH Lady Warriors started the season off with a tough opponent against Clifton-Clyde. Unfortunately, they came up short with a 58-8 loss. "With only a week's worth of learning a new offense and a new defense, I was proud of our effort the entire game." quoted Coach King. Celsie Stein led the Warriors with 4 points. Kaycee Waite and Georgia Rolph both contributed 2 points each as well.
In the second game, the JH Lady Warriors squared off against Wakefield. "It was a good test to see where our girls were at mentally and physically. You could tell we got tired towards the end of the game. Along with conditioning, we need to work on boxing out." says Coach King. Kaycee Waite led the way with 6 points, Teia Fowler had 3 points, and Bethany Demars finished it off with 2 points.
The Lady Warriors played 2 quarters of B team for both games. Against Clifton-Clyde it was a losing effort with a score of 30-2. The 2 points scored during this game came from Celsie Stein. The second game against Wakefield proved a win with a score of 9-2. Anna Peterson had 4 points, Natalie Hauck had 2 points, Celsie Stein had 2 points, and Bethany Demars had 1 point. Kyndra Chase also contributed on the defensive side with 10 steals.
The JH Lady Warriors will face St.John/Tipton at Beloit on Tuesday 11/19/2019. The game will begin at 4:00 PM.