---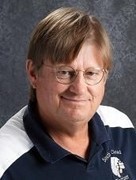 Coach Hatfield
---
Warriors Lose To Leopards
by Rick Hatfield
December 17, 2019
The Southern Cloud Warriors ran out to a 16 – 3; 1st quarter lead over the Lincoln Leopards, but then went as cold as the weather and the Leopards went on a 20 – 1; 2nd quarter run and held on for the victory 35 – 25. Logan Meier led the Leopards in scoring with 13 points and Caleb Dotterer held Gus Rice to just 5 points to lead the Leopards to the win.
The Warriors were led by Dante Peterson with 13 points, Gus Rice and Ethan Kennedy had 5 points each and Colton Walters had 2 points. Ethan Kennedy had 11 rebounds to lead Southern Cloud and Colton Walters had 7 boards of his own. Gus Rice had 7 steals to lead the Warriors in that category.
"That 1st quarter was as good as we have played all year, but we spent a huge amount of energy and we just couldn't stay with them (the Leopards) after that. We are shorthanded, we only suited 7 guys and it hurt us tonight. Lincoln is much improved from last year and they are well coached, we knew they'd make a run at us, we just couldn't stop it last night." Quoted Warrior Coach Rick Hatfield.
The Warrior B-Team won 12 – 6 over the Leopards. Dante Peterson scored 6 points, Kye Chase scored 2 points, Colton Walters scored 3 points and Shane Williams scored 1 point to round out the Warrior scoring. James Dickerman scored 4 points to lead Lincoln.
The Warriors play their last game before Christmas on Thursday against St. John/Tipton. Game Time is 4:00 PM.