---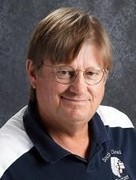 Coach Hatfield
---
Warriors Can't Stop Linn!
by Rick Hatfield
November 26, 2019
The Southern Cloud Warriors were only 2 behind after the 1st half Tuesday night but couldn't contain the Linn Bulldogs in the 2nd half, being outscored 24 – 9 in those 2 periods. The final score was 36 – 19, Dogs. The 3rd quarter was the telling tale, the Warriors only scored 2 points in the frame and the Dogs scored 14. Gavin Turk and Anthony Ayala scored 12 points each to aid Linn in the win. Gus Rice scored 13 points to lead all scorers and Ethan Kennedy scored 6 for the Warriors, but no one else for the Warriors scored. Colton Walter did lead the Warriors in rebounds with 7.
"It was a very frustrating 2nd half for us, we played right with them the whole 1st half and even led for a good deal of the half, and then, we came out with no energy in the 2nd half. We didn't have a bad half time or anything, everything was pretty positive, I don't know what happened. Give Linn credit, they did a good job after the break!" Quoted Warrior Coach Rick Hatfield.
The Warrior B-Team had another close loss. This time the score was 15 – 13, Linn. The Warriors had a couple of chances to tie or win the game, but couldn't get a shot to go down. Noah Thalmann scored 8 points to lead Linn and Dylan Ohlde scored 6 points. Colton Walters scored 6 points to lead the Warriors, Dante Peterson scored 5 points, and Kye Chase scored 2 points.
The Warriors play again right after the Thanksgiving break against Lakeside on Monday, December 2, 2019. The game will be in Glasco. Game time is 4:00 PM.