---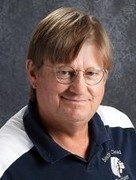 Coach Hatfield
---
Bulldogs Top Warriors
by Rick Hatfield
November 22, 2019
The Southern Cloud Warriors fought hard but fell to the Osborne Bulldogs on Thursday night at Osborne. The final score was 45 – 28. Nathen Goheen led the Dogs with 12 points, followed closely by Dawson Lantz with 11 points.
The Warriors were led by Gus Rice with 12 points, followed by Ethan Kennedy who had 8 points and 7 rebounds. Colton Walters had maybe his best effort of the season with 5 points and 10 rebounds. Adam Hauck had 3 points to round out the Warrior scoring.
The Warriors only trailed by 8 with 4:12 remaining on the clock and had 3 good shots to reduce it to 6, but couldn't get a shot to go down. The Dogs then went on 9 – 0 run to end the game.
"We don't like losing but I did feel like we made some progress. We had a couple of spurts where we didn't defend well enough and Osborne can really shoot, so if you don't guard them really close they are going to hit 3's on you and that is what happened. Still, we played man defense for a good portion of the night and we did a decent job of it, so there were some positives. We shot the ball 43 times, that is a season high for us, we just have to make a better percentage." Remarked Warrior Coach Rick Hatfield.
The Warrior B-Team also lost in a heartbreaker 14 – 13 in double overtime. Dawson Lantz made two free throws with 19 seconds left to put the Dogs up by 1. The Warriors were not able to score on their possession and the Dogs pulled it out. Dawson Lantz scored 7 points for the Dogs, Colton Walters scored 8 points to lead SC. Shane Williams scored 3 points and Donovan Burch scored 2 points to round out the Warrior scoring.
The Warriors play at Linn on Tuesday night to round out the pre-Thanksgiving portion of their schedule.