---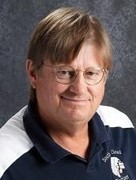 Coach Hatfield
---
Warriors Fall to Blujays
by Rick Hatfield
December 20, 2019
The St. Johns/Tipton Blujays were just too much for the Southern Cloud Warriors on Thursday night and defeated the Warriors 52 – 25. It was a 7 point game midway through the 2nd quarter and it looked like the Warriors were beginning to make a run at the Jays, but the Jays stepped on the gas and the Warriors couldn't respond.
The Jays were led by Daniel Eilert, one of the top players in the league this year, with 21 points. Jacob Winkler scored 12 points and Ed Horinek added 11 to the Blujay cause.
The Warriors were led by Ethan Kennedy with 8 points and 6 boards, Gus Rice and Colton Walters scored 6 each, Kye Chase scored 4 points and added 4 rebounds in what was one of his best overall games, and Dante Peterson was held to just 1 point. Colton Walters and Gus Rice pulled down 6 boards each for the Warriors as well.
"Our main problem was stopping Daniel Eilert, he is just really good and we haven't figured out how to stop him. We finally went box and 1 on him and that helped a little, but certainly not enough. I thought we played with good intensity, but we got a little frustrated and made a few mistakes. We will have to improve on that throughout the rest of the season. I believe in our guys and they are a great group to coach because they really want to get better." Quoted Warrior Coach Rick Hatfield.
The B-Game was frustrating as well as the Warriors lost 8 – 7. William Cockroft scored 4 to lead the Jays and Colton Walters led all scorers with 5 points. Kye Chase scored 2 points for the Warriors as well.
The Warriors are now off until after Christmas. They will play Thunder Ridge on January 9, 2020. Game time will be at 3:00 PM due to travel distances for Thunder Ridge.