---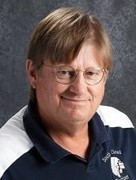 Coach Hatfield
---
St. John's/Tipton Defeats Warriors
by Rick Hatfield
November 20, 2019
The St. John's/Tipton boys out quicked the Southern Cloud Warriors 49 – 14 on Tuesday night in Beloit. The Blue Jays had the lead from the out set and never looked back. The Jays were led in scoring by Daniel Eilert with 22 points. Nick Niewald added 12 points to the Jay cause. The Warriors were led by Gus Rice with 7 points, Dante Peterson with 4 points and Ethan Kennedy with 3 points. Colton Walters didn't score but did pull down 9 rebounds to lead the Warriors.
"We were sluggish from the beginning of the game and really never came out of it. We have to get better at starting games. Their quickness really hurt us as well. The game reminded me a lot of the Clifton-Clyde game. We are going to have to work at defending quickness better if we are going to play with the St. John's/Tipton's of the world. We were disappointed after the game and that is a positive. We know we can play better. The challenge will be to not let this game beat us twice. We need to come out with some fire in our eyes on Thursday at Osborne." Quoted Warrior Coach Rick Hatfield.
The B-Warriors lost a heartbreaker to St. John's/Tipton. The score was 13 – 12. Grant Goodaker scored 8 points to lead the Jays. The Warriors were led by Colton Walters and Dashawn Peterson with 4 points each and 2 points each from Kye Chase and Donovan Burch.
The Warriors play again on Thursday at Osborne.