---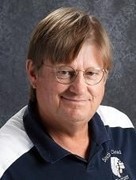 Coach Hatfield
---
Warriors Lose A Heartbreaker!
by Rick Hatfield
November 30, 2018
The Southern Cloud Warriors tried to shake off the dust of 9 days without playing basketball and almost pulled it off, losing to the Tescott Trojans 24 – 23. The Warriors were down by 6 with 1:43 left on the clock, but scored 6 straight points to tie the game at 22 with still 50 seconds remaining. Tescott got a bucket from their fine point guard Rhett Robbins with 15 seconds to go. The Warriors came down with a chance to tie or take the lead with a three, but Dante Peterson was fouled with 3.5 left on the clock. Dante made the 2nd free throw but missed the 1st one. The Warriors could not get a steal on the inbounds pass and time ran out.
Rhett Robbins scored 12 points for the Trojans and Wyatt Gipe added 6 to lead Tescott. The Warriors were led by Bryson Schmidt with 13 points and 7 rebounds, Levi Cool added 2 points, Gus Rice scored 7 points, and Dante Peterson scored 1 point. Ethan Kennedy did not score but did pull down 8 rebounds to aid the Warrior cause.
"I thought we looked tired out there, but Tescott looked a little wore down as well. Sometimes the Holidays will do that to you. Still, we gave ourselves a chance to win. We just couldn't quite make enough shots. We won't quit, we will just keep on working to get better. We really need to get back in the gym and work, and that is what we will do. Tescott is much improved and is just going to get better. They have a lot of kids playing this year (20) and that really helps them." Quoted Coach Hatfield.
The Warrior B-Team won their 2nd game of the year defeating the Trojans 18 – 4. Levi Cool scored 10 points to lead all scorers, Gus Rice scored 4 and Colton Walters scored 4 to round out the Warrior scoring. Jamie Milleson and Austin Miller scored 2 each for the Trojans.
The Warriors play again at Pike Valley on December 6th. Games start a 4:00 PM.