---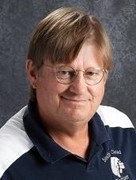 Coach Hatfield
---
Warriors Get Much Needed Win!
by Rick Hatfield
December 06, 2019
The Southern Cloud Warriors used a tough diamond and 1 press to defeat the Tescott Trojans on Thursday night in Glasco. The Warriors never trailed in this one, outscoring Tescott in all 4 quarters. The Warriors had good balanced scoring in the contest; Gus Rice scored 9 points to lead the Warrior cause, followed by Dante Peterson, Ethan Kennedy, and Adam Hauck with 8 points each. Kye Chase scored 4 points and pulled down a team high 10 rebounds and Colton Walters scored 2 points and pulled down 8 rebounds of his own. Ethan Kennedy also had a good rebounding night with 8.
Tescott was led by Dawson Lee with 10 points to lead all scorers. Justin Pasley, Cade Ellexson, and Jamie Milleson scored 2 points each for the Trojans.
"We played pretty well tonight, I think we need to shoot better, but we hit the offensive boards really hard and that is something we have needed to do all season, so, I saw improvement there. I told the kids after the game we still have a lot of room for improvement. Still we did play hard and didn't let up, I do think we are getting better. We have to focus now on not falling back, keep going forward." Said Warrior Coach Rick Hatfield.
The Warrior B-Team got their 2nd win of the season as well defeating the Trojans 12 – 4. Colton Walters scored 8 points for the Warriors with Adam Hauck and Shane Williams adding 2 each for Southern Cloud. Brennen Markby scored all 4 points for the Trojans.
The Warriors play again next Thursday at Glasco against Pike Valley. Games start at 4:00 PM.