---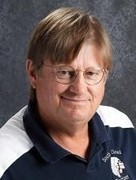 Coach Hatfield
---
Warriors Upset Longhorns!
by Rick Hatfield
January 10, 2020
The Southern Cloud Warriors played one of their best games of the season so far on Thursday night and defeated the Thunder Ridge Longhorns 36 – 21. The Warriors won every quarter for the 2nd time this season. The Warriors were playing without Colton Walters who is out with a serious eye injury, so the Warriors were down to 7 healthy bodies for the game, but they were determined not to spoil the evening for the Parents Night crowd.
The Warriors were led by Ethan Kennedy and Gus Rice. Ethan had 9 points and 12 rebounds on the night and Gus Rice scored 14 points that included 3 long range 3's. Dante Peterson also scored 9 points on the night and pulled down 4 rebounds and had 3 steals as well. Kye Chase added 4 points and pulled down 3 boards of his own. Adam Hauck, making his 1st start on the A – Team, didn't score but had 5 steals.
The Horns were led by their fine point guard Josh Ferguson with 16 points. Evan Slavik had 2 points and Mason Baker had 3 points to round out the Longhorn scoring.
"I was thrilled with how the guys played. They worked hard at Christmas and it played out well tonight. We have a lot of challenges left, but this was a good start to the 2nd half of the season." Quoted Warrior Coach Rick Hatfield.
The B - Team game was the Dante Peterson show as he scored 12 of the Warriors 14 points as they won 14 – 6. Kye Chase added 2 points for the Warriors. Jimmy Escobar score 4 points and Edrick Williams scored 2 points for the Horns.
The Warriors now play the Lakeside Knights next Thursday in Downs.