---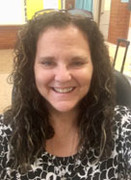 Mrs. Martin
---
Kindergarten News - GGS
by Debbie Martin
January 21, 2020
Class has been very busy for the kindergartners since returning from Christmas break. We are now beginning to work on 1st grade rules (walking in a line down the hall without talking, staying in our seats while doing our work, and raising our hands to ask a question).
Math is finding the kindergarteners counting to 20 by 2's, to 100 by 5's, identifying odd and even numbers, identifying cones, spheres, and cubes and making symmetrical designs.
Phonics has the kindergartners sounding out each letter in words, saying words with "ch", "th", "sh" and "ng" and reading stories. Reading is following along with phonics and working on the same sounds.
Kindergartners, 1st and 2nd are learning about Martin Luther Kind Jr. this week and doing a few activities along with watching a movie about his life.