Glasco Grade School Music
By: Jenna Carver
The Glasco Grade School music students have been working with our school nurse, Mrs. Brown on a special project. You might think that we were learning about brushing our teeth, or washing our hands, but we had a different project going on.
The students have been learning a cheer to help us remember one of our goals for this year. We are focusing on "self-control." The words to our cheer say, "S, C, Southern Cloud. S, C, self-control. Southern Cloud, Self-control. Warriors have Self-control!"
Mrs. Brown knows a lot of American Sign Language, because she has a family member who cannot hear. We asked her to teach us the sign language to our cheer. Mrs. Brown worked with each of the grade school classes and showed us the sign for every word.
One of our favorite signs was the one for cloud. You form a puffy cloud by making the letter C with your hands and then making the shape of the cloud. Another favorite sign was the one for warrior. She had us make strong man arms and then bring our flat hands up and down to show the sign for person.
We appreciate Mrs. Brown taking the time to teach us the sign language to go along with our Self-control Cheer.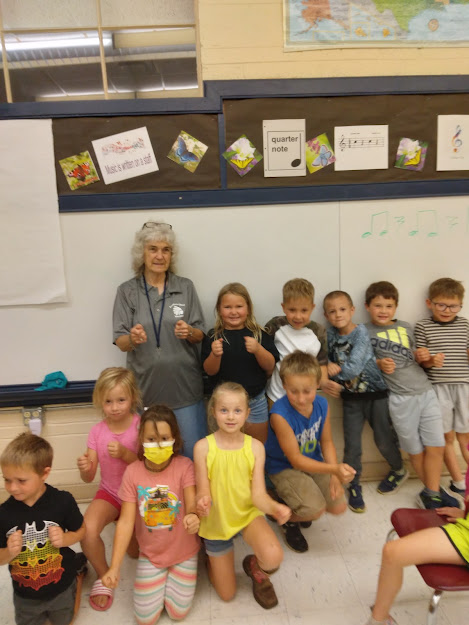 Photo: Standing – Mrs. Brown, Macee McDuffee, Weston Stingley, Carter Jamison, Daren Chaput, Landen Lewis.
Kneeling – Sebastian Smith, Lexi Graf, Melody O'Connor, Emilia Rourke, Hunter Youngberg.