---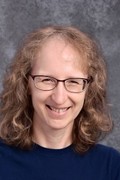 Mrs. Paillet
---
News from the English Dept. - MHS
by Marilee Paillet
October 24, 2019
The English classes work at improving their reading through novels, short stories, and Reading Plus. Reading Plus is a computer program that assesses the student's reading level, then works on his or her comprehension, vocabulary knowledge, and reading fluency to improve reading abilities. We read novels and short stories as a whole class to discuss literary devices and themes.
The seventh and eighth grades are reading The Outsiders by S. E. Hinton. The ninth grade is reading To Kill A Mockingbird by Harper Lee. Both novels deal with prejudice. The students are learning that prejudice is pre-judging a person or group of people before getting to know them. The eleventh grade read "The Crucible" by Arthur Miller. What might you discover about yourself if put through a test or trial? Will you be able to stand against the mass hysteria or will you join in?
The tenth and twelfth grades studied verb tense and pronouns. The students practiced staying in the same verb tense in their writing. They also practiced making pronouns clear and agreeing with antecedents. The twelfth grade learned about point of view. After reading "Beowulf" which is written in third person, the seniors wrote in first person from the perspective of Grendel, the antagonist and fiend in the story.