---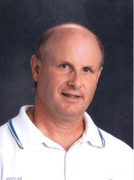 Mr. Weese
---
Science News
by Tarry Weese
October 09, 2015
Meet The Teacher
My name is Tarry Weese and I am the newly hired 7-12 Science teacher at Miltonvale High School. This is my 22nd year teaching Science. I currently live in Salina and commute to Miltonvale. I was born and raised in Russell, Kansas and graduated from Russell High School. In the fall of 1993, I graduated from Fort Hays State University with a BS degree in Physical Science. Through the years I have picked up my teaching license for science in all grades 5-12 including chemistry, physics, and biology.
My wife teaches at Salina South Middle School and we have no children, just a cat. In my free time, I enjoy working in my yard, gardening, cooking/grilling, reading, watching live music, and playing and watching various sports. I'm a big fan of the Chiefs, Jayhawks, Royals, and Shockers. And yes, I also cheer for the Wildcats, but not against KU.
I have enjoyed working in the Southern Cloud district and am hoping to stay for several years until I am able to retire.