---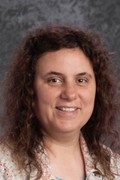 Mrs. Rolph
---
News from the Business and Computer Classes
by Eileen Rolph
November 06, 2019
We are very busy and learning a lot in the business and computer classes.
At Miltonvale High School I have students taking Business Accounting, Personal Finance, Business Economics and Computer Applications I. At Glasco High School I have students taking Business Essentials, Personal Finance, 7th Grade Keyboarding, and 8th Grade Keyboarding.
In Business Accounting, we are learning how to create financial statements and how to close accounts. In Personal Finance, we are discussing career planning and how careers affect the type of lifestyle each person wants. In Business Economics, we are discussing pay, benefits and deductions. In Computer Applications I, we are practicing creating memos, letters and reports using Microsoft Word. In Business Essentials, we are discussing small businesses and management skills. In 7th Grade keyboarding, we are practicing proper keyboarding technique by learning the proper fingers for the most efficient typing as well as how to create a table. In 8th grade keyboarding, we are learning how to create business letters using Microsoft Word. While learning about some of the many features in Microsoft Word we are also practicing proofreading skills.
In many of the classes at both Miltonvale High School and Glasco High School we use the financial literacy program, EverFi. This program offers many different online courses such as financial literacy and computer and internet safety. We would like to thank Citizen State Bank of Delphos/Glasco for sponsoring us. It is a valuable program that teaches the students many skills such as saving, spending, and using credit wisely. We appreciate their support.