---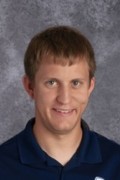 Coach Perkins
---
EXCELLENT DAY FOR RUNNERS AT BELOIT
by Ryan Perkins
October 07, 2019
It was another great week for the running Warriors. Once again, the great weather reflected in the way everyone ran. Leading up to Thursday, no one knew if we were even going to have the meet because of the rain. Beloit High and Beloit Country Club together decided to cancel all Jr. High races and allow only High School runners to run.
Dusty Mason started the day off in good fashion by improving on his seasonal best by over a minute and a half and missing his Personal Best by around 30 seconds. Next, we had the JV races, and the boys and girls once again ran together. On the boy's side Levi Cool got off to another great start to improve his Personal Best from 24:30 to 23:34. Lucas Jamison also got off to a great start to improve his Personal Best from 26:57 to 26:12. Peyton Walters improved her time from 27:42 to 27:22 winning herself another medal. This allowed the Freshman to go 3 for 3 on personal best for the second week in a row.
It is a coach's dream to watch the kids improve week by week and they have all done just that. We look to improve our times once again, Saturday in Leonardville.