---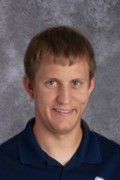 Coach Perkins
---
WARRIOR XC COMPETES AT REPUBLIC CO.
by Ryan Perkins
October 03, 2019
This week the running Warriors finally got the weather they have been waiting for. It was nice and cool with just the right amount of wind at Belleville Country Club. Their times reflected the weather, GREAT.
This week the race format was a little different than the past week. This week the two older kids ran varsity and the three freshmen ran junior varsity.
The varsity race got off to a fast pace and ended just as fast. Sophomore Dusty Mason, ran a good time at 21:49 and finished in 30th place. Senior Nevyn Gold ran a PR at 24:10 which was over 45 seconds faster than his previous PR.
The JV race was great for all three runners. The boys both had a PR with Levi Cool running a 24:30 which was nearly 3 minutes faster than his previous PR. Lucas Jamison also improved his PR. He ran a 26:57 which was nearly 4 minutes faster than his previous PR. Lastly, Peyton Walters finally met her goal from the Washington County Meet which was to bring home a medal. She finished third place in the JV race and improved her PR from 28:17 to 27:42.
The running Warriors had a fantastic day and we all look forward to running at the next meet.