---
Coach Williams
---
Lady Warriors win Tescott Tip-Off Tourney
by Tyler Williams
December 12, 2018
For the fourth time in five years, the Lady Warriors of Southern Cloud are champions of the preseason tournament, the Tescott Tip-Off. The tournament is formatted as a round robin, where each team plays each other and the team with the best record wins the tournament. Southern Cloud finished 3-0 to win the tournament unblemished and improve their record to 3-1 on the season.
At the conclusion of the tournament, Kaitlyn Morris and Logan Cool were voted All-Tournament team. Cool also took runner-up in the free throw competition, making 25 of 30 free throws.
Vs. Sylvan-Lucas – 12/3/2018
The game against Sylvan-Lucas (who finished second) started at 3:00 to kick off the tournament. Getting in a groove and maintaining momentum always seems difficult with an early afternoon start. The Lady Warriors came out strong, starting the game off with a 6-0 lead and forcing early turnovers with the full court pressure.
Sylvan-Lucas was able to claw back and keep the game close by battling in the paint, but the Warriors were able to make key baskets and free throws in the end to win the first game of the tourney, 41-36.
Scoring for the Lady Warriors: Kaitlyn Morris 11, Shea McMillan 10, Logan Cool 8, Athina Liby 6, Hana Cool 4, Emily Stein 2
Other notable stats: Liby had 5 steals on the day, Logan Cool contributed 4
Vs. Tescott – 12/4/2018
Playing for the third consecutive weekday with no practices in between, the Lady Warriors played their most complete game of the season from start to finish, beating the Trojans 55-32. The pressure and ball movement proved to be the difference in the game as the scoring was generally even throughout the rotation. Each member of the Lady Warrior s saw minutes in the game.
Scoring for the Lady Warriors: McMillan 12, Morris 10, L. Cool 10, Ashton Cooper 9, Liby 6, H. Cool 6, Jordyn Scott 2
Other notable stats: McMillan led with 5 steals, Morris contributed 4 as well to the cause
Vs. Wilson – 12/7/2018
With the championship already sealed up, the Lady Warriors started off the Wilson game down 0-6 to the undermanned Wilson Dragons and seemed to lack the fire that made them dangerous against Tescott. The second quarter, the Lady Warriors found the groove and dropped a season high 21 points in the frame.
The second half was a complete different story, as the Lady Warriors could not break the lid on the basket, turning in a goose egg (0 Points) for the third quarter, allowing Wilson back into the game. The game turned out to be a nail-biter but Southern Cloud prevailed, 38-34.
Scoring for the Lady Warriors: Morris 12, L. Cool 9, Stein 7, Cooper 6, McMillan 2, Liby 2
Other notable stats: Logan Cool ripped down 13 rebounds, Cooper and Morris had 4 steals a piece
Tournament Champions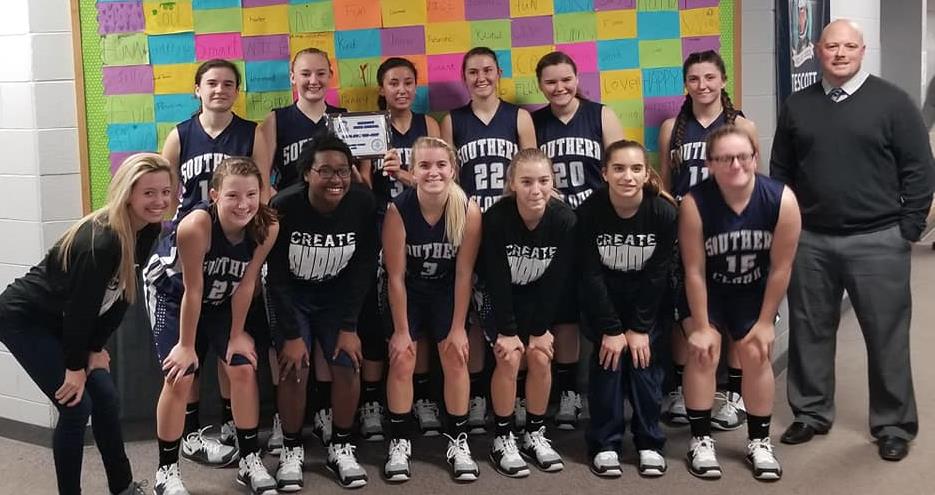 Front Row (L-R): Makenna Comstock, Shea McMillan, Rael Beals, Ashton Cooper, Mallory Bellows, Taylor Cox, Te'a Kennedy
Back Row (L-R): Logan Cool, Emily Stein, Athina Liby, Jordyn Scott, Hana Cool, Kaitlyn Morris, Coach Tyler Williams (Photo courtesy of Christie Stein)