---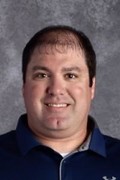 Coach Flinn
---
Blujays Outlast the Warriors
by Cody Flinn
October 14, 2019
The Warriors went to Beloit on a chilly night last Thursday to take on the Blujays and came up short on the scoreboard. The Warriors had some missed opportunities early on offense that put them behind on the scoreboard early. The team kept fighting the entire game and played a really good second half on both sides of the ball.
We learned the character of our team was high because we could have just folded on a cold night and quit, but we kept fighting and learned a lot about ourselves and what it takes to be a champion.
The Warriors have one game left this week in Miltonvale against the Lincoln Leopards.