---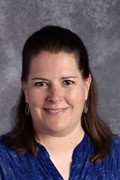 Coach Rice
---
Lady Warriors Finish Season
by Cathy Rice
October 29, 2019
The JH Lady Warriors volleyball team competed in their league tournament at St. Johns Beloit October 21st. The Warriors faced Thunder Ridge in their first match and came ready to play. They took advantage of the Longhorns mistakes and won the first game 25-13. The Longhorns turned it around the second game and won 10-25. The third game the Warriors could not get things started and gave the match over 0-15.
The Warriors faced the Lakeside Knights in back to back play. They regrouped and played hard hustling after balls one might think were not playable. They ended up losing the match in two games. 20-25 and 16-25.
After setting out a match the Warriors faced the Rock Hills Grizzlies. The Grizzlies were focused on winning and the Warriors struggled with serve receive and fatigue. They never gave in but could not pull out a win. The final scores were 16-25 and 9-25.