---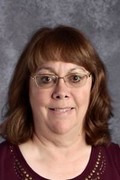 Mrs. Carver
---
PTL Junior High Music Contest
by Jenna Carver
April 26, 2019
Southern Cloud Junior High musicians traveled to Courtland April 17, 2019 to participate in the Pike Trail League music contest. Students performed instrumental or vocal solos and in small ensembles and were evaluated by a judge.
Piper Mathews, Brianna Snively, Anna Pinkston, and Simon Guyett performed in a woodwind and brass quartet. Their rendition of "William Tell" earned a II rating from the judge. Also receiving a II rating were Alisha Waite, Olivia Herron, Georgia Rolph, Lucas Jamison, Ethan Kennedy and Dante Peterson. Their song was entitled "Malena".
The Southern Cloud Girls' Quartet, with members Kaycee Waite, Jasmine Manderscheid, Anna Pinkston and Dallas Reeves performed "Hakuna Matata" and earned a I rating. The mixed trio with Peyton Walters, Levi Cool and Braya Darnall received a II rating for singing "Blowin' in the Wind/America."
The Southern Cloud Boy's Quartet, with Bryson Schmidt, Levi Cool, Cody MacLean and Gus Rice sang "Joshua Fit the Battle of Jericho" and earned a I rating. Georgia Rolph earned a I for her vocal solo, "Follow the Drinking Gourd." Dante Peterson earned a I+ for his vocal solo, "Little Tree."
The Glasco Grade School spring program is Monday, April 29 at 7:00 and the Southern Cloud 7-12 Spring Program will be Thursday, May 2nd at 7:00 p.m. Both programs will be in Glasco Lynch Gymnasium. We hope to see you there!
PTL Music Contest Participants from Southern Cloud