Youth for Music News Report
by Jenna Carver
December 05, 2018
Seven Southern Cloud High School Choir members traveled to the Pike Valley High School to participate in the Northern Plains League Music Festival on November 19, 2018. Representing Southern Cloud were: Olivia Rolph, Taylor Cox, Myah Jamison, Paden Nosker, Michael Duggin, Timothy Wennihan, and Dusty Mason. Throughout the afternoon, these musicians joined about 200 other high school singers and rehearsed with a guest clinician, Mr. Alex Underwood and accompanist, Jenna Carver. Then that evening, they presented a concert to an appreciative audience.
The mass choir performed The Star Spangled Banner, All on a Silent Night, Keep Your Lamps, Lean on Me with We Shall Overcome, and This is Me from the Greatest Showman. Each school had the opportunity to perform an individual number. Southern Cloud Choir sang Lullaby on the Wind.
The League high school choirs represented at the music festival include: Sylvan-Lucas, Rock Hills, Chase, Thunder Ridge, St. John's, Lincoln, Pike Valley, Southern Cloud, Osborne, Lakeside, and Tipton Catholic School.
Upcoming events for the Southern Cloud Music Department include the Miltonvale Grade School Winter program at 7:00 p.m. on December 14 and the Junior High and High School Band and Choir Winter program at Miltonvale, scheduled for 7:00 p.m. Please note the earlier time this year. We hope you will join us!
Students Representing Southern Cloud at Youth for Music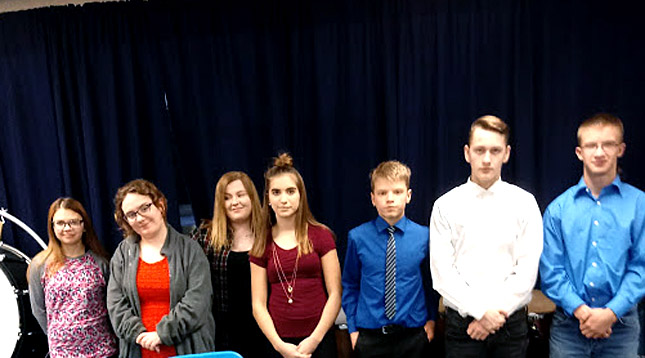 Photo, left to right: Myah Jamison, Olivia Rolph, Paden Nosker, Taylor Cox, Mike Duggin, Timothy Wennihan and Dusty Mason.