---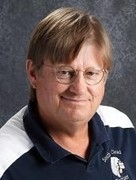 Coach Hatfield
---
Warriors Lose Yet Another Heartbreaker
by Rick Hatfield
December 12, 2018
The Southern Cloud Warriors were 51 seconds from getting their 1st win of the season on Monday night at Glasco against Lincoln. They had a 4 point lead and the ball, but 3 turnovers and 3 baskets later they had to get a Gus Rice lay-up to extend the game to overtime. In the overtime period the Leopards outscored the Warriors 11 – 2 to get the win.
Trey Simms, Lincolns fine point guard, scored 21 points and Kaden O'Hare added 17 points to lead the Leopards. The Warriors were led by Gus Rice with 16 points in one of his finest games, Levi Cool had 11 points, Bryson Schmidt had 8 points, and Dante Peterson scored 1 point. Bryson Schmidt had 10 rebounds to lead the Warriors and Ethan Kennedy added 9 boards to the total. Turnovers are what killed the Warriors. They had 22 as a team.
"I am a little broken hearted about this game. We played really hard and gave ourselves a chance to win, but we turned it over at a critical juncture. You just have to handle the ball and not make big mistakes and we made a few down the stretch. Turnovers are killing us; we have to do a better job of taking care of the ball. I was pleased with a lot of what we did over the course of the game, and I was pleased that we were disappointed that we lost as opposed to being happy that we came close. We expected to win and that has to happen before you can win. We will keep working hard in practice and do everything we can to get better and come out on top of these types of games." Quoted Rick Hatfield, Coach of the Warriors.
In the B-Game the Warriors won 11 – 6. Dashawn Peterson scored 4 points to lead the Warriors. Levi Cool scored 3 points, Gus Rice and Colton Walters scored 2 points each to round out the Warrior scoring.. Blake Knight, Carter Rathburn, and Gage Stewart scored 2 points each for the Leopards. The B-Warriors won their 4th game in a row on this night to go above .500 for the 1st time this season.
The Warriors play their last game before Christmas on Thursday against St. Johns/Tipton at Beloit. The Warriors will play the Wakefield game they had cancelled due to snow and ice, on January 7th at Wakefield.